Wholesale Edge Grip Standoffs at Blowout Prices (Pricing Shown for Sets of 4)
We're sorry, but no items matched your search query.
---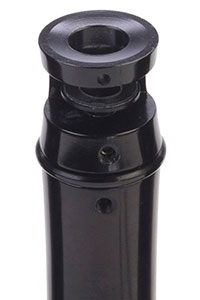 Wholesale Edge Grip Standoffs for Sign and Merchandise Display
Which type of sign mount is the perfect choice for sign shops, designers, and installers? These wholesale edge grip standoffs feature additional uses besides the standard wall mounting installation. Thanks to their side gripping design, these models don't need holes drilled into your sign panels which makes using them much easier. The standoffs are engineered with ingenious features filled with adjustability and (virtually) tool-less installing. We are offering these aluminum sign mounts with black or silver anodized finishes, in four different barrel lengths. All mounts come with tamperproof set screws that lock them in place for a strong hold. These edge grip standoffs are priced at all-time lows; take advantage of these awesome deals! Purchase in bulk and stock up on this sign-mounting hardware for future jobs and applications.