Custom Printed Wayfinding and Office Signs - Acrylic Wall Mounted Graphic Holders
---
Office Signs with Custom Printing Identify Rooms and Direct Visitors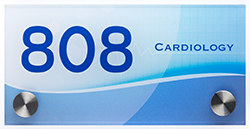 How do you inform people about their surroundings in large buildings? These custom printed wayfinding and office signs are excellent for pointing employees and visitors in the right direction. Whether you're introducing your company to passersby, designating the floor you're on, or showing where the conference room is, this interior signage makes it clear. The custom printed wayfinding and office signs come with our digital printing services for creating fully personalized graphics. Feature the company's logo, employees' names, and inviting designs of your choice. Best of all, these custom printed wayfinding and office signs are offered with bulk pricing to accommodate large orders for expansive locations.
What makes this interior directional signage great for representing my organization?
The custom printed wayfinding and office signs are made with pieces of acrylic and metal standoffs. Not only do the graphic holders literally "stand out" from the wall, this gives them a sleek appearance that will complement any professional environment.
Our wayfinding and office signs are imprinted in full color using UV digital printing, a high quality process that creates vivid imagery. This ensures graphics have fine detail while increasing their resistance to fading.
Wayfinding and office signs are available in a number of sizes to fit any business's needs. Representing your company in a large building's hallway? Use a bigger display, like a 10" x 4" to attract greater attention to your brand. Noting each of your employees' work areas? Feature smaller graphics holders so the walls aren't too cluttered with signage.
With our office signs, businesses can freely personalize their graphics to their preference. We print this interior directional signage in full color to recreate any company's branding. At Displays2go, our in-house office signs are similar to our logo with dark blue text with a white wall background. Use your preferred font and branding to make these displays specific to your organization, but make sure it's readable so it easily directs passersby.
What makes a directional sign more effective?
Contrast – Use distinct colors to stand out from the background. Make graphics more noticeable so no one misses their destination.
Sizing – Keep the most important information, like the room name, the largest object in the design. There's no reason for the logo to outshine the destination!
Simplicity – This enhances readability by keeping the text uncluttered. Use a logo or a representative symbol for the room, but don't over-do it!
These wayfinding signs are ideal for directing people, from marking the floors in a skyscraper to simply labeling where the break room is. Design your own solution with our easy-to understand-templates. Alternatively, create your own displays with wall mounted acrylic signage line and print your own messages. Get wholesale pricing and supply your whole building when you order on Displays2go.com.