Aluminum Standoffs | Prices Shown are for 4 Standoffs (Unless Noted)
---
Aluminum Standoffs - Wholesale Priced Sign Mounts Sold in Sets of (4) Unless Noted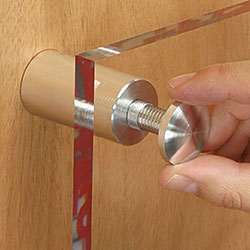 The selection of cheap sign mounts offered here provides the affordable answer for eye-catching, 3-dimensional presentations. Use aluminum standoffs to mount glass or acrylic panels inside reception areas, office lobbies, museums, and more. This collection of signage spacers is expertly machined with one eye on your budget. Not only do these aluminum standoffs provide secure installations for signs or plastic name plates, they come in many colors, designs, and configurations. More visually impressive than conventional framing, our sign-mounting hardware creates dimensional presentations for corporate signage in reception lobbies. Designers also spec out the use of stand offs for displaying artwork in a museum setting. Whichever the application, thanks to the inexpensive aluminum metal these sign supports are some of the cheapest styles sold on our website.
What types of sign-mounting hardware are available using this material?
Aluminum standoffs come in a good variety of cap diameters and barrel lengths
Choose from hand polished or durable anodized finishes, such as silver, titanium gray, and black
Mounting styles include standard through grip, edge grip, double panel, and illuminated LEDs
We sell these stand offs in sets of 4 which will handle most signage installations. However it's not uncommon for large panels to use more than the traditional four. This can be due to the size and weight of the sign panel, or multiple sections requiring lots of fasteners to install. The models that require holes drilled through the substrate are the most common available. The stand off barrel is first mounted to the wall, then the sign is held up while inserting the caps and screwing them down to tighten. Edge grip mounts don't require the need for holes through your sign, therefore they remove a step in the installation process. Our unique sign supports with integrated LED illumination are for specialized applications, like exit and safety signage. Within all three styles, the finished presentation projects authority and trustworthiness, attributes all businesses wish to project.