Inexpensive Sign Mounts | Prices Shown are for 4 Standoffs (Unless Noted)
---
Cheap Standoffs - Sign Mounts and Metal Screw Covers at Great Prices!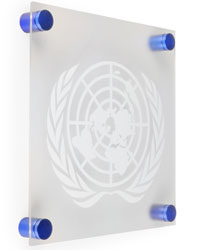 Looking for cheap standoffs to hang your business sign or company logo? This inexpensive sign hardware is great for mounting acrylic, plastic, wood, or glass signage. They are so affordable they will fit into all budgets with several styles available. These cheap standoffs, also called sign mounting hardware, support signs by either fitting through pre-drilled holes in panels or by gripping onto the edge of them. There are even metal screw covers that add a decorative, finishing touch to wall signs. These sign mounts are available in aluminum or stainless steel with various finishes, and come in sets of 4 unless otherwise noted. The screw covers are sold in sets of 8.
What do these inexpensive sign mounts offer?
Most of these cheap standoffs are through mounts, meaning that holes need to be drilled into your panels for mounting, but some come with set screws that lock the assembly in place as a security feature.
You have the pick of the litter when it comes to all the different finishes we offer. Some of our newest varieties feature blue and red anodized finishes, while most customers like the more traditional satin silver or chrome look. The tamperproof fasteners are sold in triangular, square and barrel shapes for an interesting look.
Some of the more interesting styles are the dual mounts. This hardware is able to hold a two piece sign away from the wall for a more creative look that uses different materials. The standoffs will still require holes in the panels to be attached properly. These fasteners are also able to be used in building multi-level tabletop shelves that are sure to attract customers.
There are many applications where this sign hardware can be used. The most obvious place is in business lobbies or the high impact area behind the receptionist. The affordable stainless steel models are durable and may even be used in places that experience some weather, like breezeways, but outdoor display board materials, like acrylic or plastic, are a must. The screw caps can help to create consistency within a building as well. These metal accessories can be used with included hardware to add a finishing touch to plain screws that attach displays to walls. There are some retailers that have taken to pairing the standoffs with acrylic or tempered glass panels and turned them into display risers or shelving units. Even our lightweight aluminum mounts can be used for this purpose of supporting plastic shelves. Because the hardware comes in so many finishes and sizes there is surely to be one that will complement your building architecture and décor.