Cable Display Systems | Modular Sign Hangers for Commercial Use
---
Cable Display Systems - Wall to Wall, Suspension/Window, Floor to Ceiling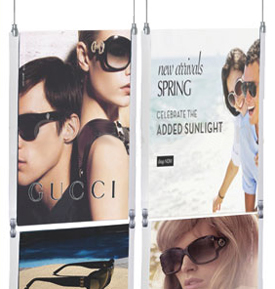 Could cable display systems be what your business needs to create unique hanging signage or shop fittings for wall, ceiling or window installation? Suspension sign matrices are configurable architectural fixtures that work equally well in retail, commercial, institutional and residential environments. Retail cable display systems can be used for many different purposes; in addition to holding advertisements or marketing materials, wire suspension configurations are also perfect for showcasing gallery-style art and even for creating elegant suspended shelving for walls or ceilings. Available styles range from ceiling mounted grids to columns of wall-mount poster hangers to double-sided LED-lit window matrices. Cable display systems, also known as picture hanging hardware kits, create clean line fixtures for a stylish modern look. The variety of hardware and mounting options are increasingly popular with interior designers and homeowners to create residential art or shelving hangers in addition to commercial or retail use as shop fittings and merchandising signage mounts.
What style picture hanging hardware kits are available?
Floor to Ceiling: These commercial grade cable display systems include both ceiling support hangers and secure floor tensioners to hold graphics and messaging firmly in place vertically. In addition to use as retail shop fittings, full-length designs are popular with art galleries and museums for visual displays, and in commercial or institutional environments as decorative or informational space dividers.
Wall to Wall: These mounts are most commonly found in retail environments, particularly because they save valuable floor space. Many different configurations are available, from single panes to multi-pane grid matrices. These stylish suspension sign wall hangers can be purchased and installed in multiple quantities to create gallery-style presentations of poster or graphic images.
Window: Sometimes called suspension display systems, these mounts are simply ceiling hangers with no bottom connector. Image panes are held in place by the weight of the complete suspension unit itself. This style of cable display signage is popular with commercial and service organizations as way-finding or directional sign holders, as well as with restaurants, real estate and retail businesses to advertise specials and current offerings.
Depending on the level of visibility required for decor purposes, stainless steel or monofilament wires or chains can be used for suspension. Sometimes referred to as "aircraft cables" because they were developed for the aviation industry, braided wire ropes are coated with nylon plastic for additional protection. The stainless steel wire provides both flexibility and great tensile strength, while the plastic coating offers protection from fraying and damage or injury. Chain mounts offer high visibility and a more rustic feel than modern-looking wire cables. For nearly invisible suspension that makes shop fittings appear to float midair, clear monofilament line puts all the focus on the shelving or signage rather than on the mounting system
Clear acrylic panels secure and suspend advertisements, art, photos and even brochures. Multiple sizes are available in a variety of layouts to create anything from single-panel signs to grid-style visual advertising matrices with matching pamphlet holders. In addition to traditional clear plastic enclosures, LED-illuminated lightbox panels are available in multiple sizes for eye-catching backlit wall, window or ceiling displays that will attract customer attention with ease.
Increasingly, designers are expanding the use of stainless steel floor-to-ceiling and suspension systems to use edgegrips and standoffs as anchors for vertically mounted shelving in retail and commercial environments to create shop fittings with a modern, elegant look and the tensile strength of stainless steel wire. Vertically mounted signs and fixtures are a superior, economical choice for stores, restaurants, boutiques, businesses and even homes. Our huge variety of professional picture hanging hardware kits span a variety of styles from mounts to complete suspension systems for shop fittings.