Sign Standoffs | Wall Mounts for Signage Systems (Sold in Sets of 4 Unless Noted)
---
Sign Standoffs - Wall Mounting Hardware for Signage Displays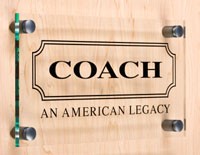 What is the most aesthetically pleasing display option for sign standoffs? Offered to industries searching for attractive and longstanding corporate signage are these threaded standoffs for three-dimensional mounting. These multi-width components are available in aluminum, brass, chrome, gold, silver, matte black, and stainless steel, in a variety of sizes. These screw-in devices provide a smoother and cleaner look appropriate in most environments. Sign standoffs, also known as display fasteners, are appreciated by interior designers for their low profile and customizing capability. Screw through mechanisms are desirable because they can be drilled right into current signage for panel mounting indoors. For those who prefer to purchase a system they can mount on their own, the company offers builds such as border and tamperproof. In some cases, sign standoff preferences include do-it-yourself installation, which customers can take advantage of with these pre-built kits. Individual parts for designing a customer's own display are also available. For quick and easy installation of plaques and signage, this large selection of threaded standoffs is a no-fuss bet for high-traffic areas where you want to attract customers.
What are the benefits of a display fastener?
We offer multiple sized sign standoffs.
High-quality, low profile, attractive.
Versatile enough for any industry.
A favorite of interior designers.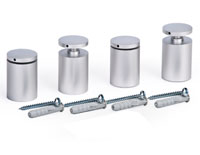 Screw through hardware can resolve all of your display mounting challenges, elevating the appearance of your decorative communications and expanding customization options to suit the dynamics of any industry. Holes drilled through the current plaque or panel allows the fastener to easily grip the surface, attaching it to the wall for an attractive and secure display. Mounts are adjustable for versatility when signage needs to be moved or replaced. Depending on the venue, there is a design and material to suit every esthetic. These sleek styles are available in myriad finishes.
What finishes do these display fixings come in?
Satin
Chrome
Stainless steel
Silver
Gold
Titanium
Matte black
Signage fasteners transform the look of ordinary signage into exceptional announcements of your business or establishment at a reasonable cost without compromising quality. This through style reduces expense by dismissingthe need for frames, while keeping a high-end look. Notice the displays at your bank, in the doctor's office, in a hospital waiting room or at a law or college admission office. If you visit an architect or interior designer's office, you will see higher end products as we show here. Design-oriented people know hardware can mean the difference between ordinary and superb visuals. This merchandise shines in the most prestigious venues. These fasteners are offered in various categories via the online catalog. Favored by interior designers, these selections shine in the most prestigious offices. For low-profile businesses, they offer easy, inexpensive solutions that enhance - even elevate - the space.
Each fastening mechanism includes four devices for mounting. These are engineered to support panels of wood, acrylic, aluminum, glass or any other messaging display substrate. Low profile design does not distract from the visual and this equals high impact for your brand. The hardware mounts your display in minutes. Another plus to through fasteners: a line of quality alternative inexpensive fastening goods comprised of aluminum are available. Stock tamperproof fixings are also attainable for use in municipal spaces. Mounting hardware fastens wood, acrylic, glass or through mounts by size (there are 17) and weight. Three sizes of fasteners are offered. Depth is another consideration, and many depths are available depending on how prominent you want your display. Another option still is one that allows fasteners to be used without putting holes in the display (some display material is impenetrable.) Customers are attracted to this mounting system because it's a snap to install: all you need for equipment is a drill, and a few screws. The hardware attaches to holes in a wall or flat surface with screws and simple anchors. Cap fasteners are hand-tightened and fastened to the barrels. We store a plethora of deco knobs, sandwich caps, sign kits, and many more sign mounts for immediate shipping!